Makara Sankranthi
Makara Sankranthi is the harvest festival,which is all about doing things together as a family.
This festival is celebrated in various places of India.
The first day is celebrated as Bhogi festival in honor of Lord Indra, the supreme ruler of clouds that give rains.While the traditional Indian Calendar is based on lunar positions, Sankranti is a solar event. So while dates of all Hindu festivals keep changing as per the Gregorian Calendar, the date of Makar Sankranti remains constant over a long term.It is celebrated for 4 days.
The festival, Sankranti , is celebrated for four days in Andhra Pradesh and Telengana as below:

Day 1 – Bhogi
Day 2 – Makara Sankranti
Day 3 – Kanuma
Day 4 – Mukkanuma
It was on this day when Lord Vishnu ended the ever increasing violence and threats of asuras by finishing them off and burying their heads under the Mandar Moutain. So this occasion also represents the end of negativities and beginning of an era of righteous living.
1. Bhogi Mantalu
Bhogi Mantalu is a sacred bonfire is burned during Bhogi which people believe that this will destroy the darkness in their life and bring brightness and colors to their life. People also believe that Bhogi Mantalu destroys/cures some diseases. Old items in house are used for this fire.Bhogi mantalu (burning the agricultural waste and domestic waste)not only clears the waste but also makes the fields free from harmful insects and worms . On this day people clean their houses and it is nicely decorated. Girls with new clothes dance around the bonfire singing songs in praise of god.The disposal of derelict things is where all old habits, vices, attachment to relations and material things are sacrificed in the sacrificial fire of the knowledge of Rudra, known as the "Rudra Gita Gyana Yagya". It represents realization, transformation and purification of the soul by imbibing and inculcating divine virtues.
Bhogi Pallu
In the evening on Bhogi festival day. The main ritual is to pray Lord Vishnu fo better health of children. elders in the home showers "Bhogi pallu on childern. Bhogi Pallu is also known as Bhogi Pallu On this day, the children in the house are the celebrated ones. They are all dressed up in new clothes and given arati, which is done to ward off the evil eyes. Then a mixture of gooseberries, sugarcane , Navadhanyalu is mixed up with flowers and some coins which is known as Bhogi pallu. Then this Bhogi Pallu is showered on the heads of the children as blessings from the elders in the family. The main reason of offering Bhogi pallu to children is get them better health and prosperity.It is a type of solution for Nara dristhti and Graha peeda Nivarana.
Bommala Koluvu
Bommala koluvu or Bommala nomu is one of the popular traditions in Andhra pradesh during Bhogi. Sankranthi .Bommala koluvu begins a day prior to Bhogi and ends on Mukkanuma with the observance of bommala nomu.Married women and unmarried girls arrange the dolls in order. And invite other women and girls to their houses to see bommala koluvu.The idea of putting up koluvu is symbolically viewed as ushering in the Uttarayanam with all the gods and goddesses who have formed a divine court within our home sending signals of protection and grace all through the year. Auspicious sweet dishes are cooked on all the three days as naivedyam to the gods at the koluvu and the prasadam is distributed to the visitors. An oil lamp is kept burning on the last step all through the three days.
2. Makara Sankranti
The second day is Makara Sankranti. People wear new clothes, pray to God, and make offerings of traditional food to ancestors who have died. The Sankranti festival falls on the second day of three day festival. On this second day of Sankranti festival called as pongal prayers are offered to Goddess Laxmi and worship cattle. On this day food and new clothes are offered to departed souls as a mark of respect. The second day is Makara Sankranti, also called "Pedda Panduga" , which literally means "the big festival", in some places this festival is also called as Pongal. Pongal is a sweet dish prepared from the recent rice harvest. For this festival all families prepare Ariselu, Appalu (a sweet made of jaggery and rice flour) dappalam (a dish made with pumpkin and other vegetables) and make an offering to God.
Muggulu ( Rangoli )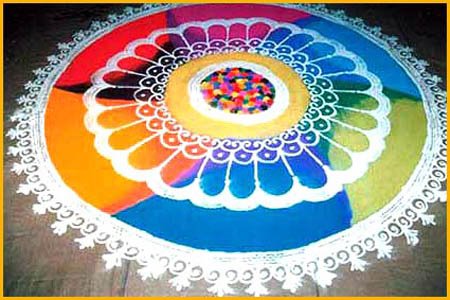 Makar Sankranti is a pedda panduga the main festival for the people in rural Andhra Pradesh. In Hinduism, every religious tradition or gesture is symbolic of a deeper meaning. Rangolis are not meant for mere beautification of the house but are supposed to prevent evil from entering the home. Here's an explanation to support the age old belief and practice. Both positive and negative energy dwell in the atmosphere.
Gobbemmalu
On Bhogi and sankranti Hindus made Gobbillu with shit of ox. And put these gobbillu on centre of Muggu.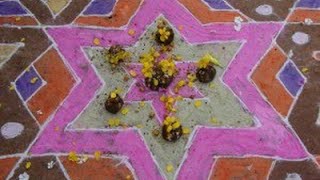 The courtyards are cleaned and beautiful muggulu/rangoli patterns are drawn ,coloured and decorated with marigold flower stuck on cowdung balls,Pasupu/Kumkuma,Navadhanyalu in the center of Rangoli/Muggu and that is called Sankranthi Gobbemalu.People in Andhra Pradesh Invite Lord lakshmi by drawing these colorful rangolies/Muggulu. Ladies wake up early in the morning and participate actively in rangoli event and they take this as a competition. They wanted their Rangolies to be bigger than any others so they cover entire road in front part of their house.
Haridasu
Haridasu (servant of Lord Hari/Vishnu) is a special attraction of this festival, Haridaasu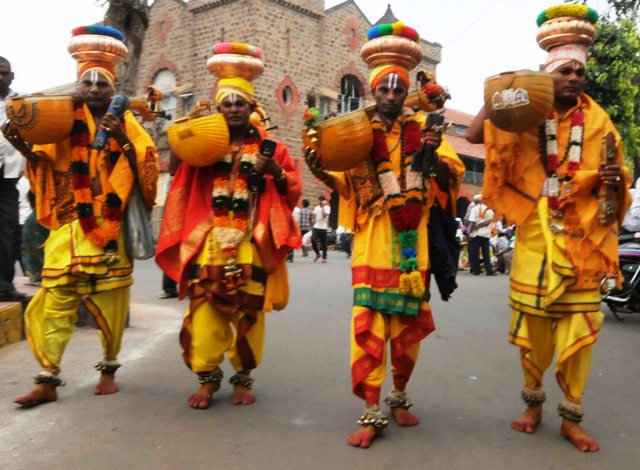 wake up very early in pre-dawn hours, bathe, wear special saffron clothes, and visit each home in the village. They wear Vaishnavite markings on the face, necklaces of rudraksha beads, flower garlands, Veena (stringed musical instrument) on one shoulder, chirutalu (castanets) in one hand, anklets with bells, etc., and visit homes while singing religious songs (Vaishnavite, especially praising Lord Rama). They collect alms (especially rice), provided by the villagers, in a pot called akshayapaatra carried on the head.
Gangireddulu & Jangamayyalu
There is tradition of decorating cow with different coloured clothes it is called as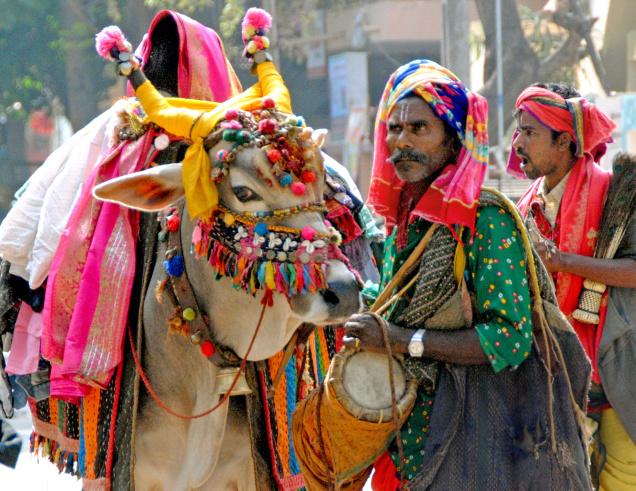 Gangireddu. Gangireddu is a decorational Ox. This is symbol of Vechicle of Lord Shiva Nandi. People of named Gangireddulu vallu beg and bless each family.they come to every house and play music so that the house owners come and give their offerings such as clothes and food to the cow(Gangireddu). Jangamayyalu are symbols of Lord Shiva. They walk one home to another and beg food grains. They blessed all and gives vibhudhi powder to all.​
Sankranthi Nomulu
Married women will perform Sankranthi nomulu ,they buy 13 new items such as silver items, steel plates, kumkumkaya, steel boxes,spoons ...etc. They keep them infront of god and perform puja.After the pooja is done they keep one item for themselves and distribute the rest as vayanam to married women.In some parts of Andhra Pradesh this is very important nomu for the newly wed bride.
Patang
Sankranthi is also called as festival of kites,the generic name for a kite is 'Patang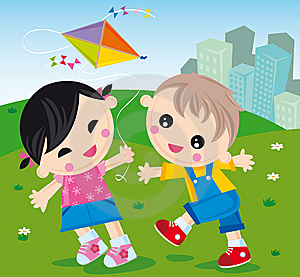 ' .These kites are made of special light-wt kite paper and bamboo and are mostly rhombus shaped with central spine and a single bow. Now-a-days we see beautiful kites in the market.People offer thousands of their colorful oblations to the Sun in the form of beautiful kites .Many people fly kites on that day.Many kite competitions are held on the day of sankranthi.
3. Kanuma
The Third day of Sankranthi festival is Kanuma. Hindu Mythology says that Lord Krishna lifted the Govardhana Giri on this day to protect the people of Gokhulam from strong rains and thunderstorms. This day is dedicated to Cows and Bulls. These animals are decorated with colors and flowers and they areworshipped.People in villages perform puja to their agriculture tools used for harvesting.
This day, the cows and buffaloes are worshipped and thanked for ploughing the fields and contributing to the harvest. A famous saying goes.. ' no meat should be eaten this day' it's a respect we are giving our animal friends!! And people make and eat ' GARELU'!
4. Mukkanuma
The Fourth Day of Sankranthi festival is Mukkanuma. It is a day of Get together where people socialize and go out on picnics. Mukkanuma is the final day of Sankranti celebrations. On this day people arrange huge feasts, invite friends and relatives. In some places, on Mukkanuma bullock cart races and cock fightings are held. Mukkanuma is the final day of Sankranti festival in Andhra Pradesh Makara Sankranti Pongal Festival History.
Makara Sankranti Festival History :
Story 1: The history behind Makar Sankranti holds it s significance of being the day of religious significance. With Sun entering the Northern Hemisphere the day and nights become equal on this day and days become longer and nights become shorter. It is also said a day of victory of good over evil as on this day Lord Vishnu conquered the terror of demons and buried them under the Manadara Parvata. Puranas state that on Makara Sankranti day, Surya visits Lord Shani. Shani is the son of Surya and on this day, father and son get together.
Story 2: Once Lord Indra, with his headstrong poured a heavy rain on Gokulam . People of Gokulam prayed to Krishna to save them from the cyclone. Krishna lifted the Govardhana Giri with his small finger on this day to protect the people of Gokhulam from strong rains and thunderstorms. Thus Indra realized that Sri Krishna is non other than Lord Sri Maha Vishnu and bowed on the Lord's his feet.King Bhageeratha brought Ganges down into Patala on Makara Sankranti day. This was to get salvation to his ancestors.
Story 3: who were cursed by Sage Kapila and turned into ashes and whose souls were trapped in hell.One of the most important myths is the death of Bhishma in the Mahabharata. Bhishma chose the Uttarayana period. (Bhishma had got a boon from his father that he will only die when he wishes – Iccha mrutyu.) It is believed that people who die during Uttarayana merges with the Para Brahma, thus ending the cycle of rebirth.
Article by Haritha. D