Click Here To View Telugu Version
Significane Of Atla Taddi
Atla Taddi is one of the most important festival for telugu people. Atla Taddi festival is observed on Ashwiyuja Bahula Tadiya. Atlu is nothing but Doshas and taddi is the short form of Tadiya or third day. Atla Taddi nomu is observed by young unmarried girls for the blessings of Gowri Devi to get good manner husband, newly wed woman for happy relationship between them and for motherhood, Married woman perform vrat for their husband's long live ,children's health and properity.
Gowri Devi also performed Atla Taddi on the words of Sage Narada and got married with Lord Shiva. Woman wake up in the early morning before sunrise have head bath, apply mehndi to their palms, Parani to the feet, will have rice cooked day before night before the sunrise with Gongura Chutney and Curd. Fasting should be observed the whole day even without drinking water. After sunrise woman tie ropes to the trees and swing, singing songs Atlataddoi Aaratloi Muddapappoi Moodatloi etc while swinging. After Moon rise once again woman take head bath and prepare Atlu (Dosha) with Lentils and rice powder. Woman prey Gowri Devi and offer Atlu. One of the married woman will be assumed as Gowri Devi and decorate her and offer 10 Atlu, Jacket piece Tamboolam, Fruits, Money to her as Vayanam. After that another 10 woman are also offered 10 Atlu, fruits, tamboolam, money, black heads, Jacket piece, Lakka Jollu or Kumkum and pasupu to them as vayanam. Woman perform Gopuja (Cow puja), leave lighted lamps in nearby lakes and ponds. Once again they tie ropes to the trees and swing. The most important pooja is Chadrapooja. Parashakti who resides in Chandrakalas will bless the woman Sowbhagya will increase. Another most important is one of the navagraha Kuja (Mars) is very much found of them. If Atlu are offered to Mars the Kuja Dosha will be repulsed, there will no obstacles in relationship, there will no obstacles in woman periods (mensus cycle). Rahu is found of Lentils, Rice Powder is found of Chandra (Moon).
Vrat Story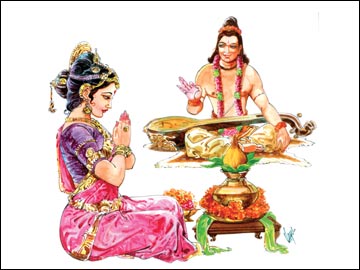 Once a kings daughter (princess) who is very beautiful wants to perform Atla Taddi vrat, along with her friends she starts vrat. As she have grown up lavishly she is unable to withstand fasting fainted. Brothers of princes came to know this through their mother. They went to the place where princess is performing vrat, tied a mirror to the branch of tamarind tree, lit a fire under the tree and reflected it as moon rising. They awake princess and shown that to her. By watching and assuming as moon rise she leave fasting and had lunch. After some years the friends of princess have got married to good mannered youths, but unfortunately princess have not got married. The marriage proposals to the princess are from old persons. The brothers and king searched for a suitable match, but their efforts are in vain. The princess got vexed with this and left to forest to perform Penance. After rigorous meditation Lord Shiva along with Gowri Devi appeared before princess and asked the reason for performing the penance. The princess replied as I have done Atla Taddi vrat to get good match, what is the fault I have done in vrat?. Lord Shiva and Gowri Devi said that she have not performed the fasting properly and told her how her brothers cheated her by showing a fake moon. Because of the improper fasting you are getting profiles from older persons only. Their is no wrong done by them as they are having so much affection towards her. Lord and Devi advised her to perform in coming Ashwayuga Bahula Tadiya once again properly and to be fast till moon rise and after darshan of moon only to have food. Princess came back to her palace and performed Atla Taddi vrat properly and had lunch after Chandra darshan. By this she got perfect and good young prince match and lived happily.
Click Here To View Telugu Version