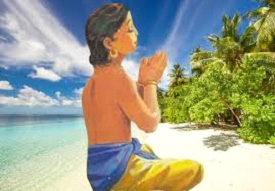 Bhakta Dhuruva is the son of the king Uttanapada and Mata Suniti. Through his severe penance on Lord Vishnu, he has become a divine star in the sky, and he is controlling the entire Navagrahas and other stars through his supreme powers. By worshipping Dhuruva and by chanting his mantra, we would get good name, fame and wealth in this world, and we would get an opportunity to live in his Dhuruva Mandala after our death.
MANTRA
"Om Bhakta Dhuruvaya Namaha"
'Om' is an eternal, universal sound, the Brahman and it denotes the supreme spirit, also called as almighty.
"Bhakta Dhuruvaya means, offering our sincere prayers to the great Vishnu devotee Dhuruva Nakshathira"
"Nahama" means offering our salutations and Bowing our head before the great almighty.
SENT BY
R.HARISHANKAR