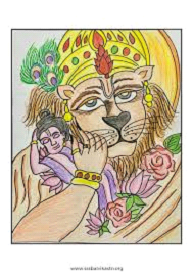 Bhakta Prahalada is the incarnation of Lord Shangu Karna, a divine attendant of Lord Brahma. He contains the features of Lord Brahma Deva. He contains great bhakti on Lord Vishnu, and due to that, he has attained all kinds of prosperities as a boon from Lord Narasimha. By chanting his mantra, we would get good health, wealth and all kinds of goodness in our life.
MANTRA
"Om Bhakta Prahaladaya Namaha"
'Om' is an eternal, universal sound, the Brahman and it denotes the supreme spirit, also called as almighty.
"Bhakta Prahaladaya means, our sincere prayers to the great Vishnu devotee Prahalad"
"Nahama" means offering our salutations and Bowing our head before the great almighty.
SENT BY
R.HARISHANKAR