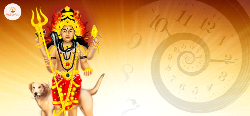 Lord Kalabhairava is the incarnation of Lord Shiva. He has got great powers, and he would protect us from our enemies, and safeguards us throughout our life. By chanting the below mantra, we would get relieved from unknown fears and we would lead a stress-free and peaceful life.
Deva-Raaja-Sevyamaana-Paavana-Angghri-Pangkajam
Vyaala-Yajnya-Suutram-Indu-Shekharam Krpaakaram
Naarada-[A]adi-Yogi-Vrnda-Vanditam Digambaram
Kaashikaa-Pura-Adhinaatha-Kaalabhairavam Bhaje
Meaning:
1.1: (Salutations to Sri Kalabhairava) Whose Lotus-Feet is Served by Indra, the King of the Devas.
1.2: Who has a Snake as his sacrificial thread, moon on his head, and who is extremely sympathetic with his devotees.
1.3: Who is Praised by sage Narada and other Yogis, and who is Digambara (Clothed by Sky, signifying that He is Ever-Free).
1.4: Salutations to Sri Kalabhairava who is the Supreme Lord of the city of Kashi.
Let us worship the great Shiva Avatar, Sri Kalabhairava and be blessed.
SENT BY
R.HARISHANKAR