Lord Muruga also known as Subramanya is the supreme god and the son of Lord Shiva, who is a popular deity, and mostly worshiped in South India, and in some Asian countries. He is considered as a great warrior, who had destroyed fierce demons, and maintained peace and prosperity in the world. By worshiping Lord Subramanya, and by chanting his mantra, we would get good benefits in our life, and we would be able to lead a peaceful and comfortable life.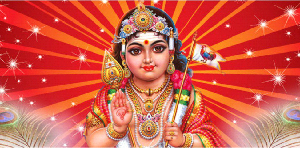 MANTRA
"Om Subramanyaya Namaha"
Meaning
'Om' is an eternal, universal sound, the Brahman and it denotes the supreme spirit, also called as almighty.
'Subramanyaya' means the son of Lord Shiva, and the one who has realised Brahman.
Namaha' means offering our humble prayers to the almighty.
SENT BY
R.HARISHANKAR