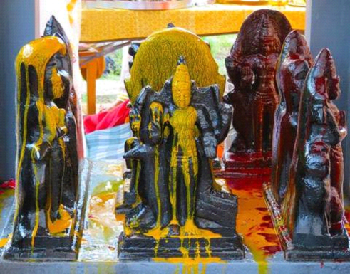 LORD SURYA MANTRA
Japaa kua Sankaasam – Kaasyapeyam Mahaath' yuthim
Thamo'urim sarva Paapa ganam – Pranathosmi Dhiwaakaram
Meaning: One who looks like the Hibiscus flower, Son of Kashyapa, full of radiance,
Foe of darkness and the one who dispels all sins, I prostrate that Surya.
LORD CHANDRA MANTRA
Dhadhi sanka Thushaaraabham – Ksheero Dhaarnava Sambhavam
Namaami sasinam Somam – Sambhor makuta Bhooshanam
Meaning: The one who has the hue of curd and icebergs, one who emerges from the milky ocean, Chandra who adorns Shiva, I prostrate that Chandra.
LORD ANGARAKA
Dharanee garbha Sambhootham – Vidhyuth kaanthi Samaprabham
Kumaaram Sakthi Hasthancha – Mangalam Pranamaam Yaham
Meaning: The one who is the son of Bhooma Devi, One who has the lustre of lightning,
One who has Shakti in his hand, and the auspicious one, I prostrate that Angaraka.
LORD BUDHA MANTRA
Piryangu kali Kaasyaamam – Roope'naa Prathimam Budham
Sowmyam sowmya Gunopetham – Tham Bhudham Pranamaam Yaham
Meaning: The one who is dark like the bud of Priyangu flower, One who is unequalled in beauty and is intelligent, And the son of Chandra, One who is peaceful, I prostrate that Budha.
LORD BRIHASPATI MANTRA
Dhe'vaanaancha Risheenaancha – Gurum Kaanchan sannibham
Bhudhdhi bhootham Thrilokesam – Thannamaami Bhruhaspathim
Meaning: The one who is the Guru of the Devas and Rishis, the one who is radiant and intelligent, The Lord of all the three worlds, I prostrate that Brihaspathi.
LORD SUKRACHARYA MANTRA
Hima kundha M'runaalaabam – Dhaithyaanam Paramam Gurum
Sarva saasthra Pravruththaaram – Bhaargavam Pranamaam Yaham
Meaning: The one who has the lustre of the dew, Lotus stem and Thumba flower, High priest of Asuras and the one who preaches the Shatras, I prostrate that ( Bhargava )Sukracharya.
LORD SHANI BHAGAVAN MANTRA
Neelaanchana Samaabaasam – Raviputhram Yamaagrajam
Chaayaa Maarthaanda Sambhootham – Thannamaami Sanaicharam
Meaning: The one who is blue, one who is like charcoal, one who is the son of Surya and the brother of Yama, one who is born to Chaya and Surya, I prostrate that Saneeswara.
LORD RAHU MANTRA
Ardha kaayam mahaaveeyram – Chandhraadhithya vimardhanam
Simhikaagarba Sambhootham – Tham Raahum Pranamaam Yaham
Meaning: The one who has half a body and is full of valour, one who opposes Chandra and Surya without fear, the one who was born from Simhika's womb, I prostrate that Rahu.
LORD KETU MANTRA
Palaasa pushpa sankaasam – Thaarakagraha masthakam
Rowdhram rowdhraathmakam go'ram – Tham Kethum Pranamaam Yaham.
Meaning: The one who looks like Palasa flower, one who is the king of the stars and the one who has a fierce form and is scary and angry, I prostrate that Ketu.
Let us worship the holy Navagrahas and chant their mantras and be blessed.
SENT BY
R.HARISHANKAR