INTRODUCTION :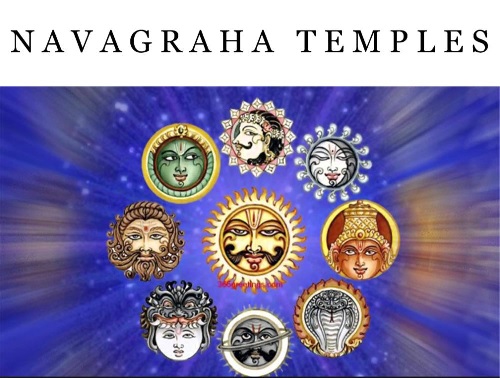 Navagrahas are occupying the main place in our life. We are able to live in this world, through their grace only. Apart from the main gods, Navagrahas are considered as demi gods, and are even worshiped by the great rishis, sages and saints. In order to get prosperity and to get rid from our problems, it is advisable to visit and worship the nine temples, also called as Navagraha temples, situated nearby the Kumbakonam area. The details of the nine temples are as follows:
1. Suriyanar Koil

Temple History
The temple is believed to be the place where all Navagrahas also called as Nine Planets were cursed by Lord Brahma and got back their power and strength due to the blessings of Lord Shiva, and permanently stayed at this place in order to bless the devotees who worship them at this place. The Sun god is worshipped as a main deity in this temple.
Significance
In this temple, separate shrines for all the nine planetary deities are found. This temple is an ancient temple which was built by the Chola king. Lord Surya blesses us with his consorts Mata Saranyu and Mata Chayadevi. The idol of Sri Suryanarayanaswamy is found in a lying posture inside the sanctum of the temple. The other eight Navagrahas are seen facing Lord Surya. Suriyanar Temple also embodies the shrines of Kasi Vishwanath, Visalakshi and Brihaspati. The Kol Theertha Vinayakar shrine is a prominent sculpture inside the temple.
By worshipping this temple, along with our family, all sorts of diseases will be removed from our body, especially skin related diseases, and we will get great strength in our mind and body and get peace and prosperity throughout our life. The planets are believed to influence the horoscope computed based on time of one's birth and subsequently influence the course of life.
2. Thingaloor also called as Chandranar Temple or Kailasanathar Temple
History
As per legend, Lord Chandra, had married 27 daughters of Lord Daksha, were considered as the divine stars shining in the sky. Since he showed his love and affection only on the Rohini Star, all other wives of Lord chandra, complained to their father, the great Daksha, and due to that he cursed Lord Chandra, to lose all of his powers. In order to regain his powers, Lord Chandra is believed to have worshiped Kailasanathar at this place and got restored with all his powers.
Significance
The temple is famous for first feeding of rice to infant children. Problems due to Chandra dosha will be removed by worshiping this temple. Since Chandra is the controller of our minds, by worshipping Lord Shiva and Chandra in this temple, our mind related problems, such as mental tensions, worries, and psychiatric problems will be solved. Hence it is advisable to visit and worship this temple especially during Mondays, and can have the darshan of Shiva and Chandra and can get all the propensities in our life.
3. Vaitheeswaran Kovil
History
This temple was an ancient temple and built by the ancient kings, in order to get relieve from diseases. Shiva is worshiped as Vaidyanathar which means "God of healing" and it is believed that regular prayers to Vaitheeswaran can cure several dreaded diseases. It is one of the nine Navagraha temples and is associated with the planet Mars also called as Angaraka. The holy waters of the temple tank, is believed to cure all diseases of the devotees.
Significance
The temple is revered by Tevaram hymns of saint poets Thirunavukkarasar and sambandar belonging to the 7th century. The village is also famous for Naadi astrology in Tamil. The temple is praised Tamil saint poets and is also classified as a Paadal Petra Sthalam (temple revered by the nayanars). Thirunavukkarasar compares Lord Shiva to luminous objects - a flame, a pearl, a diamond and pure gold. He also indicates wasting lot of days not worshiping Shiva at this temple.
4. Tiruvenkaadu Swetharanyeswarar Temple
History
This temple was worshiped by Budhan and got great powers through the grace of Lord Shiva. Shiva took the fierce form of Aghoramoorthy to kill the demon Maruttuvan. Lord Shiva is worshiped in the name of Swetharanyeswarar in this Temple.
This temple is dedicated to Lord Shiva and to the Planet Mercury – Budhan, and it is one of the 9 Navagraha stalams. Tiruvenkadu is considered similar to the holy Benares and is located near Kumbakonam. Nearby Shiva temples include Keezhtirukkattuppalli, Tiruvalampuram, Tiruchaaikaadu and Pallavaneeswaram.
Significance
By worshiping this temple and praying to Lord Shiva and Budan, all of our problems would come to an end, and we will get better prospects in our life. This temple is worshipped by great sages and saints, and the Lord Shiva is showering his grace to his sincere devotees. Thiruvenkadu Temple is surrounded by pancha prakarams. Here the Lord is consecrated in his forms as Aghoramurthi and Nataraja. The Nataraja image holds seven instruments and weapons, namely, Vetalam, Khadgam, Udukku, Mani, Kedayam, Kapalam and Trisulam.
There are three theerthams called as Agni Theertham, Surya Theertham and Chandra Theertham which are said to have been created out of the three drops which fell from Lord Shiva's eyes when he was dancing. The sthala vrikshams are also three in number – Vilvam, Vadaval and Konrai.
5. Apatsahayesvarar Temple
History
It is a famous temple dedicated to Lord Shiva located in the village of Alangudi of Tiruvarur district, Tamil Nadu, which was built by the Chola Kings. Shiva is worshipped as Apathsahyesvarar. And Mata Parvati is worshipped here as Elavarkuzhali. It is believed that Lord Shiva after consuming the Hala Hala Visham stayed at this place for some time. The main deity is praised in the 7th century Tamil work Tevaram and classified as Paadal Petra Sthalam. It is a famous stalam of Lord Guru Bhagawan.
Significance
Alangudi is the holy temple of Jupiter and a divine place where one could worship Jupiter (Lord Guru Brahaspati Bhagawan). This sacred shrine of Jupiter is renowned for its tri-glories, i.e. Moorthy (The Presiding Deity), sthalam (Place of divinity) and theertham (The Holy Water). Lakhs of people throng his place, particularly on the day of Jupiter's transit to the next sign to solicit Jupiter's protection from afflictions. Lord Jupiter's benign look (Drishti) can shower a lot of blessings from him. He is Deva guru. He is also known as Brihaspathi, due to his excellence in education and fine arts, possessing supreme intelligence.
6. Agniswarar Temple

History
It is a Hindu temple in the village of Kanjanur, 18 kilometres north-east of Kumbakonam. The presiding deity is Sukra (Venus). However, the main idol in the temple is that of "Agniswarar" or Shiva. The temple was built by Chola Kings. Lord Siva blessed Parasara Rishi here with cosmic dance. Lord Shiva and Parvati in Kanjanur are worshipped as Agneeswarar and Karpagavalli Amman. Lord Shiva Himself is worshipped as Sukran and therefore the absence of a separate shrine for the Navagraha, Sukra.
Significance
Unlike other Navagraha temples, the main deity, Agneeswarar in the form of lingam depicts Lord Sukra. A special feature of the Linga of Agneeeswarar is that it absorbs all the oil poured on it during the process of Abishekam. By visiting this holy temple, all of our problems will come to an end, and we will get great pleasantness in our mind, and will be relieved from mental tensions and worries.
7. History of Sri Saneeswara Bagwan Temple and Sri Darbharanyeswara Temple
History
In Thanjavur District the ancient temple of Sri Darbharanyeswara is situated. This temple was visited by the Saint Tirugnana Sambandar Thirunavukkarasu and Sundarar and sung songs on Lord Shiva. This temple houses a separate shrine for Lord Saturn also known as Shani Bhagavan. The presiding deity is Dharbaranyeswarar and is believed to have been made of dharba grass. The tradition is to worship Shani before entering the inner sanctum of Lord Siva.
Significance
Lot of devotees are visiting the temple for relief from the effects Saturn in their life. They take an oil bath in the Nalatheertham, offer prayers to Kalitheertha Vinayaka, break coconuts and worship Baghwan Sani the planet Saturn.
Those afflicted by the adverse effects of Saturn get a relief after praying to the Saturn in the Darbaranyeswarar temple. They also come here for repentance from sins, curing of diseases, getting oratory skills. They pray to Darbaranyeswarar for peaceful marriage alliances. Above all they get total mental peace.
Thirunallar is also known as an important pilgrimage spot of Lord Saturn. The Saturn Shrine is always crowded. As he is the Lord of Makara (Capricorn) and Kumba houses in the Zodiac, their idols also find a place in the shrine. There is also a Golden Crow, the vehicle of Saturn in the shrine.
8. Tirunageswaram Naganathar Temple
History
It also known as Rahu Stalam is a Hindu temple dedicated to the deity Shiva, located in Tirunageswaram. Here Lord Rahu is said to have worshiped Lord Shiva and got great powers through that. It is significant to the Hindu sect of Saivism as one of the temples associated with the nine planet elements, the Navagraha Stalas, and specifically Rahu. Shiva is worshiped as Naganathar, and is represented by the lingam. His consort Parvati is depicted as Piraisoodi Amman. The presiding deity is revered in the 7th century Tamil Saiva canonical work, the Tevaram, written by Tamil saint poets known as the nayanars and classified as Paadal Petra Sthalam.
Significance
As per Hindu belief, people troubled by Sarpa-dosha or Malefic effects Rahu-Kethu seek a relief by offering prayers in this temple. By visiting this temple sarpa doshams will be eliminated, and we will get good prospects in our life.
We can see that the idol of Rahu during Rahukaalam with milk turning to blue colour in this temple is considered to be a miracle and attracts devotees from distant places.
As per Hindu belief, people troubled by Sarpa-dosha or Malefic effects Rahu-Kethu seek a relief by offering prayers
9. Naganatha Swamy Temple or Kethu Sthalam
History
It is a Hindu temple in the village of Keezhaperumpallam, 2 kilometres from Poompuhar. The presiding deity is Ketu, a shadow planet. However, the main idol in the temple is that of "Naganatha Swamy" or Shiva.
According to history, Keezhperumpallam was famous as Vanagiri. Kethu and Rahu, popular as 'Chaaya Grahangal', associate with the legend of the churning of the milky ocean. When Devas and Asuras churned the ocean of milk with Manthira Mountain as churning stick and snake Vasuki as the rope, the amirtham emerged.
An asura who disguised himself as a Deva consumed it. Hence, Lord Narayana hit the asura on the head with the spoon in his hand. Then the cut off head fell on the ground. As the asura had consumed amirtham, his head and body continued to live.
Also, the head portion of the asura attached itself to a snake body and became Rahu Bhagavan. The body portion fell in Pothigai mountain region and a Brahmin preserved it. The asura body attacked the head of snake to become Kethu.
Significance:
The center icon of the temple Kethu is a shadow planet. Also number 7 is the number denoting Ketu God. Further, Ketu God here has a divine posture with a five-head serpent as his head and folded hands worshiping Lord Shiva (Lord Naganatha swamy).
Devotees also believe that they will get rid of Naga dhosham, Kethu dhosham, and form issues of marriage by worshiping in this temple. According to astrology, Ketu's effects are that of similar to Mars but this is only one way of describing the malefic effect and power of Ketu.
Ketu can be more destructive if it is inauspiciously positioned in the horoscope. Ketu destroys the potency of the planet with which it is conjunct, making the planet behave in an uncontrollable manner. All days are special in the Ketu temple at Keezhaperumpallam.
Rahu and Ketu were the twins and universe planets than other planets. Lord Ketu is red in colour and has decorations of red lilly flower and red dresses. The effect of Ketu will create hindrance in one's effort, poverty, enemy, ill health, devil spirits, loss of property, loss of face etc.
SENT BY
R.HARISHANKAR