Article Search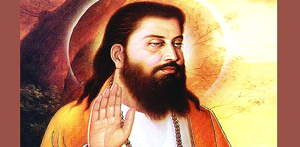 INTRODUCTION :The Dalit is a certain section of Hindu society usually termed as a "lower" caste, and there are many famous saints hailed from Dalit community. Some of the famous Dalit Hindu saints are Ravidas, Kabir, Namdev, Chokha Mela, and Mata Kanhopatra, etc. Ravidas was the guru of saint Meerabai, Queen of Chittor, and also to royal kings. He was worshipped by the Brahmins saints also, and they used to bow before the great saint Sant Ravidas, who is considered as an incarnation of Lord Ravi, another name of Lord Surya Bhagavan. Many Dalit saints, due to their noble works, and g..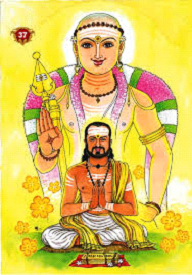 INTRODUCTION : Devaraya Swamigal was born in the year 1820 in a pious Hindu family, and he was an ardent devotee of Lord Muruga. He is the author of the famous Kanda Shasti Kavasam, which was composed by him in Tamil language through the grace of Lord Muruga.His father was a rich man, and he was a wealthy landlord and lived in Mysore under the British rule. Devaraya at his young age itself learned Tamil language under Shree Meenakshi Sundaram Pillai, a Tamil scholar from Trichy, and he quickly grasped the language, and began to write devotional songs on the Tamil God Muruga. Apart f..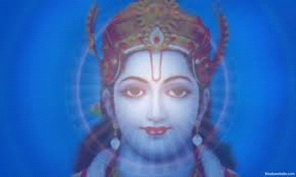 INTRODUCTION : The supreme Lord is the head of the entire universe. He performs many activities and controls the living beings in the entire universe. He also shares his duties to the divine demi gods by giving them super natural powers, and making them to discharge their duties in a proper manner. The earth goddess, Mata Bhudevi is the divine earth mother, and she improves the fertility in the earth, and also absorbs the rain water, and makes the crops to grow properly. She is considered as the Kuladevi of the farmers, since through her great help only, the farmers are able to properly h..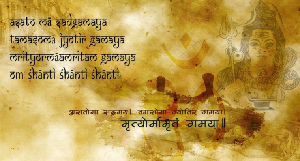 DIVINE MANTRAS WITH MEANINGASATHOMA MANTRA :The Asathoma Mantra is an ancient Indian mantra which is found in the Brhadaranyaka Upanisad. The mantra must be recited during the time of fire sacrifices in order to please the divine deities.MANTRAOm Asato Maa Sad-Gamaya |Tamaso Maa Jyotir-Gamaya |Mrtyor-Maa Amrtam Gamaya |Om Shaantih Shaantih Shaantih ||MANTRAGangge Ca Yamune Cai[a-E]va Godaavari Sarasvati |Narmade Sindhu Kaaveri Jale-[A]smin Sannidhim Kuru Namo Namaha ||Meaning:1: Om, (O Lord) Keep me not in (the Phenomenal World of) Unreality, but make me go towards the Reality (of Eternal Self..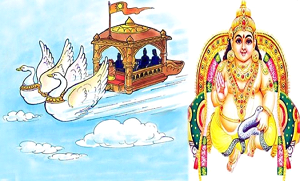 INTRODUCTION : Vimana also called as Pushpaka Vimana is the ancient flying chariots, which contains supreme powers, and the details about it were mentioned in ancient Vedas and in Puranas. Among the Pushpaka Vimanas, Pushpaka Vimana owned by Lord Kubera is very powerful, and it would allow the people in the entire earth to enter into it, since when large number of people enters into the Vimana, it would automatically enlarges its size. This Vimana was gifted to Kubera by Lord Shiva, in appreciation to his bhakti.During the Treta Yuga, Ravana forcibly took this Vimana from Kubera, and afte..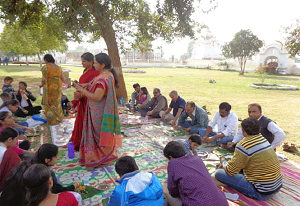 INTRODUCTION : Vanabhojanam means serving food to the devotees under holy trees, and it would be served in big temples like Tirumala, and also in small temples during the Tamil month of Karthika. The food would be served to the devotees usually under the trees like Vilva, Arasa and Vanni, and the devotees who participate in the annadanam would be blessed by the almighty. It is believed that by taking part in the Vanabhojanam event, sins committed by us by the way of killing small insects would be removed.Vanabhojanam was organized since ancient times. Mostly it would be offered in the Vis..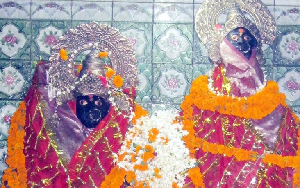 INTRODUCTION :Ma Aranyani Devi is the forest goddess. She is also called as Vana Devata, and Vana Bhagavathy, and she is considered to be the guardian of the animals living in the forest. She also protects the forest from thieves and from natural calamities like storm, earth quake and floods.Goddess Aranyani, is a form of Ma Shakti Devi and she has been protecting the forests since several centuries. Sometimes the holy mother Aranyani used to dance in the dense forests, and it would be witnessed only by her sincere devotees. The Aranya Devi Temple is located in Bihar. Before few centuries, she..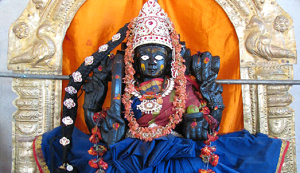 INTRODUCTION :Poleramma is the Village guardian goddess, and she is mostly worshiped by the people in Andhra Pradesh. Poleramma is an incarnation of Ma Shakti Devi, and she is worshiped since ancient times. As per legend, she was born in a village at Andhra Pradesh in a pious Telugu family, and her brother is Pothuraju, who is also considered as a guardian god by the devotees of Ma Poleramma.Usually her shrine would be a small one, and it would be situated only in the outside of the village, and it would be constructed with only ordinary stones, since the great divine mother, doesn't want to e..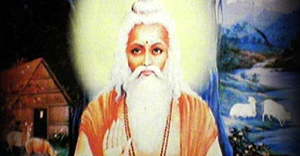 INTRODUCTION :Prashastapada was an ancient sage. He wrote commentaries on various holy texts of Hinduism, and he was considered as a great scholar in the Brahma Sutras. He is believed to have lived before few thousand years. Prashastapada also had written books on bhakti, dharma and the ways to attain salvation. He is believed to be a great devotee of Lord Shiva. During his period, he also met various Sages and saints like Adishankara, Markandeya and Viswamitra and discussed with them about spiritual matters.Prashastapada was widely praised by the ancient kings and scholars for his vast knowle..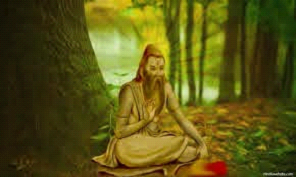 INTRODUCTION :Namas was a great sage, and he was the descendant of Rishi Kashyapa. He was mentioned in the Holy Vedas, Puranas and in Ramayana and Mahabharata, and he is considered as a great Vishnu Devotee. During the period of Ramayana, he met Lord Rama when he was living in the forest along with Lakshmana and Sita, and during the period of Mahabharata, he met Lord Krishna in Dwaraka and worshipped him.Namas gave much respect to the devotees of Lord Vishnu like Narada, Tumburu, Dhruva and Bhakta Prahalada. Once when Lord Indra was planning to fight with Prahalada, it was Rishi Namas, wh..
INTRODUCTION :Spirituality alone would give great mental stability for us. Without having bhakti on the god, we cannot live our life peacefully, and we would lose our mental stability. Our body contains blood, bones, brain and nerves. We didn't know how our body is operating. By reading some books we may know about that. But if we have been suffering from some disease for a long time, even if a good doctor attends us regularly, we cannot expect complete recovery from his treatment, since some things are beyond the control of the humans. But with the grace of the god, and by frequent consumptio..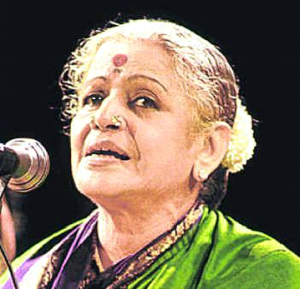 INTRODUCTION : Subbulakshmi (1916–2004) also fondly called by the music lovers as M.S, was a Carnatic Music singer from Madurai. She was the Bharat Ratna Awardee, and also received various other awards for her great contribution in the field of Carnatic Music. She has also performed Musical concerts in foreign countries.Subbulakshmi was born in the year 1916 in Madurai, into an Orthodox Music family. She learnt Carnatic music at her young age and trained in Carnatic music under the guidance of Semmangudi Srinivasa Iyer.Subbulakshmi's first musical performance was made in the Rockfort Temp..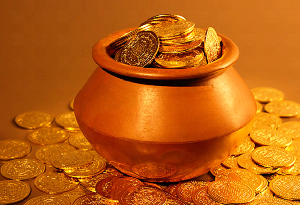 INTRODUCTION : Swarna dhanam means donating gold, either in the form of gold coins or in the form of ornaments. This type of donation usually would be done to the temples like Thirumala, Sabarimala and Guruvayur. We can give gold to the temples by approaching the temple authorities and can ask for their requirement. During the wedding of Lord Venkateswara, gold was given by Lord Kubera. It is believed that still Lord Venkateswara was repaying his debts to Kubera through our donation. By donating gold, we can get the divine blessings of Ma Lakshmi Devi, the goddess of wealth. Gold is ..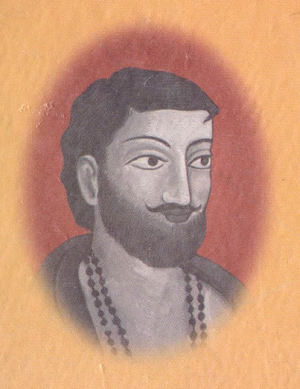 INTRODUCTION :Bharatchandra Ray Gunakor (1712–1760) was a Bengali and Sanskrit poet and composer of divine songs. He is well appreciated for his holy work, Annapurnamangal, which mentions the greatness of Mata Annapurna, a form of Mata Shakti Devi, who provides plenty of food to all the living beings in the earth. He was honoured with the title Gunakor by the then Maharaja Krishnachandra of Nadia. Bharatchandra was born in the year 1712, to a pious Bengali family in a village in the present day Howrah district. Bharatchandra was brought up by his uncle in Naoapara at Kolkata. At his..