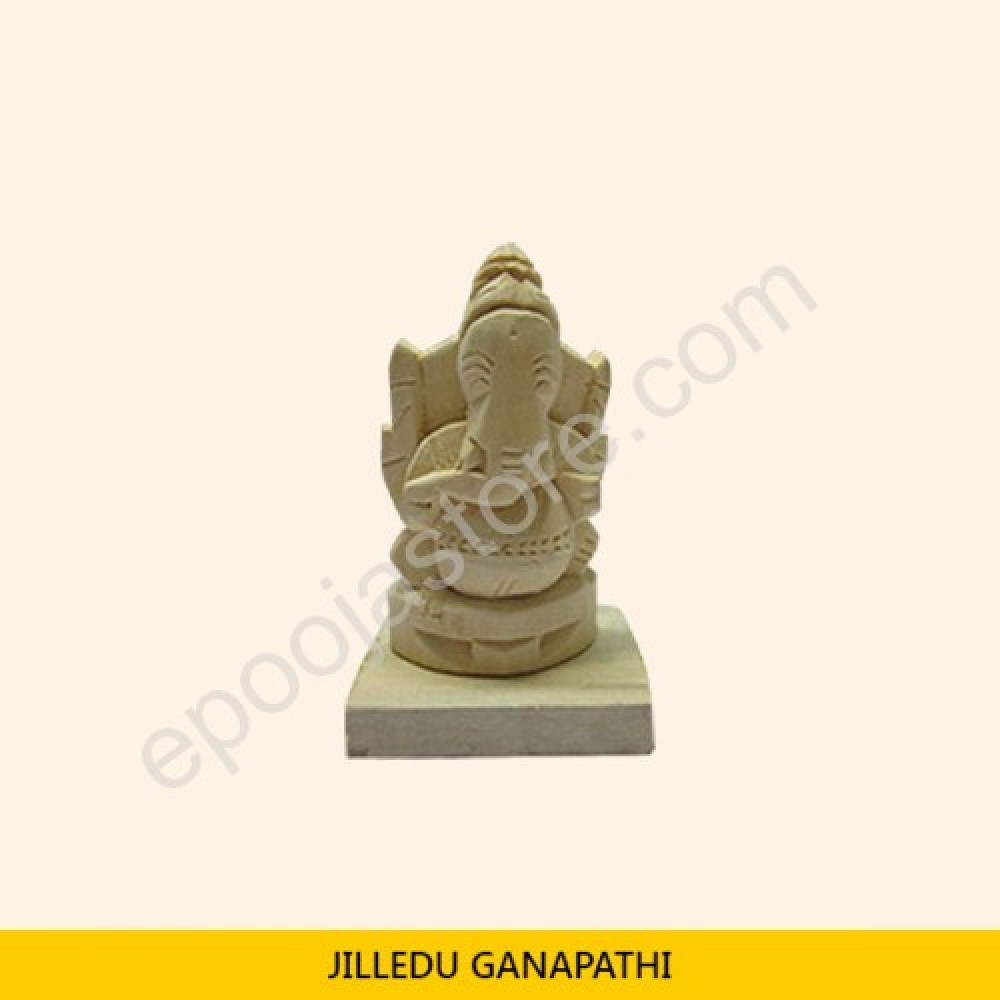 Sale
Jilledu Ganapathi
Suggested price :
$5.41
Price :
$4.00
(26% off)
White Often Buffalo (Tella Jilledu) Ganapathi :
Right side trunk : Most of the Ganesh Idols in temples have Ganesh trunk will be towards right side and worshiped by Agama Shastra only. The elders suggest that in pooja process there will be no errors should be done in temples and they are permitted only to the temples. This Vinayaka is also called Siddhi Vinayaka. If this vinayaka is worshiped with mantras the benefits will be delivered quickly.
Left side Trunk : Mostly the left side trunk Vinayaka is worshiped in homes. This form of Vinayaka is believed the appearance of moon. Elders believe that if this form of vinayaka is worshiped will get self satisfaction, strength, nutrition problems will be dissolved.
Jilledu Ganapathi ( శ్వేతార్క గణపతి - కుడివైపు, ఎడమవైపు )


* కుడివైపు తొండము: కుడివైపు తొండముతో వినాయకుడిని ఎక్కువగా దేవాలయాలలో ఉంచుతారు. కుడివైపు తొండము గల వినాయకుడిని ఆగమము ప్రకారము మాత్రమే పూజించాలి. ఈ పూజావిధానములో పొరపాట్లు జరగకూడదని దేవాలయాలలో అయిన విధివిధానముగా పూజాదికాలు జరుగుతాయని ఎక్కువగా దేవాలయాలకు మాత్రమే పరిమితమని పెద్దల సూచన. ఈ వినాయకుని సిద్ధి వినాయకుడు అని కూడా అంటారు. సమంత్రకముగా పూజిస్తే ఈ వినాయక స్వరూపము ఇచ్చే ఫలితాలు చాలా త్వరితగతిగా ఉంటాయి.
* ఎడమవైపు తొండము : ఎడమవైపు తొండముతో వినాయకుడిని ఎక్కువగా గృహములలో పూజింపదగినదిగా చెప్తారు. ఈ స్వరూపము గల స్వామివారు చంద్రునికి సంబంధించిన స్వరూపముగా చెప్తారు. ఈ స్వరూపమును పూజించిన మనఃశాంతి, శక్తి, పోషణకు సంబంధించిన సమస్యలు తరుముకు పోతాయని పెద్దల విశ్వాసము.