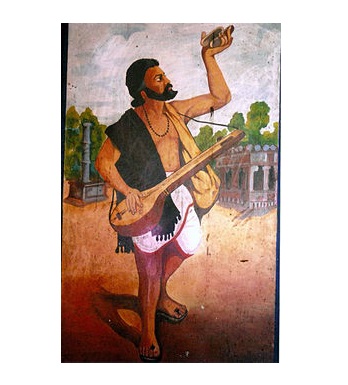 INTRODUCTION :

Kanaka Dasa (1509–1609) was a great saint,poet,philosopher,musician and composer from modern Karnataka. He is well known]for his music, and for his various spiritual writings in the Kannada language.


Birth and Becoming Hari Dasa
Thimmappa Nayaka was his original name and he belonged to a village chief's family of Kaginele in Haveri district. He was born to the couple Beerappa and Bachchamma at Baada village, near Bankapura and he was a great warrior at Bankapura fort. Kanaka Dasa was well educated and capable of analyzing the society. Based on the details, it is said that after he got injured in a war and after getting saved by Lord Hari, he gave up his profession as a warrior and devoted his life to spiritual path. At a young age, he has written several poems titled Narasimha stotra,Ramadhyana Mantra,and Mohanatarangini.

Kanakadasa has explained about attaining SALVATION. His opinion in attaining salvation was, that once a person eliminates his ego, and treats all the people alike, he is capable of attaining salvation. He is regarded as an amsa of the death god 'LORD YAMA DHARMA'.


Association with Vyasaraja and visit to UDUPI Krishna Temple
Kanakadasa has a special association with Udupi as he was the follower of Vyasatirtha Swamiji. On the request of Vyasatirtha Swamiji of Vyasaraja Mutt he had come to Udupi. But it was the period where caste discrimination was at its peak. The Brahmin priests would not let him to enter inside the temple as he was from a "low" caste.

Generally the deity in a Hindu temple always faces east. But in Udupi, Lord Krishna deity faces west. It is believed that due to the bhakti of Kanaka dasa, the temple wall fell down and the deity of Lord Krishna turned around, and there was a crack in the outer walls of the temple, through which Kanakadasa was able to see his Lord. After that one window was formed, and the devotees are supposed to worship Lord Krishna only from that window. Even today, that window stands as a tribute to Kanakadasa. The devotees who visit Udupi Krishna temple will have their darshan of Lord Krishna only through this 'small window'. It also acts as a memorial to Kanakadasa who devoted his entire life towards Hari Bhakti. Kanakadasa's devotion to Lord Krishna is very great.


Importance
His writing shows that Hari Bhakti is one of the daily activity of a common man. He joined Haridasa movement and became a follower of Vyasaraja who named him as Kanakadasa. His writings addressed several social issues in addition to devotional aspect. Kanaka Dasa was very straight forward in opposing the caste system which prevailed during those days.

The deity he worshiped was Adhikeshava of Kaginele, presently in Haveri district of Karnataka. In addition to being a poet, he worked as a social reformer by criticizing upper communities that were suppressing the disadvantaged communities. Kanakadasa made extreme effort in developing the disadvantaged communities. He effectively used music to convey his philosophy. He lived at Tirupathi in his last days. He is one of the greatest musicians, composers, poets, social reformers, philosophers and saints that India has ever seen.


Devotional Works
Kanakadasa wrote about two hundred and forty Karnataka Music compositions, besides five major works. His compositions are published in many languages.
Some of his writings are as follows:-
1.Nalacharithre
2.Haribhakthisara
3.Nrisimhastava
4.Ramadhanyacharithre, a rare work on class struggle
5.Mohanatarangini


CONCLUSION
Kanaka Dasa possessed several good qualities in his life, such as uplifting the down trodden low caste people, developing hari bhakti and promoting his music and poems among people. He is the one who acts as a messenger to god for doing good to the people. Let us pray to him with pure devotion and chant his nama 'OM SREE KANAKA DASARE NAMAHA'.


SENT BY
R.HARISHANKAR