NTRODUCTION :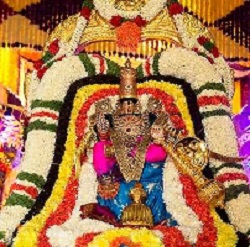 Vishvaksena is the ARMY CHIEF of the Hindu god Vishnu. Vishvaksena is worshipped before performing any rituals, according to Vaishnavism tradition. Vishnu temple festivals will begin after worshipping him. The name of his wife is Sutravati.
IMPORTANCE :
In Mahabharatha and Srimad Bhagavatam, the name of Lord Vishvaksena is mentioned in several places of the texts. He is described as a great valour and controls the army, gives great strength to those who worship him, and mainly gives courage, boldness and good health and wealth. He is the one who protects his devotees from their enemies. It is advisable to those, who are suffering from their enemies, to worship Lord Vishvakshena with good faith, and to get rid of their problems. BLACK magic, bad mantric and tantric problems, and all negativity of thoughts will be removed by chanting his name repeatedly, and to worship him regularly, especially it is better recommended for those persons, who do not have enough strength and courage in their mind and body. He is regarded as an AMSA (Aspect) of Lord Vishnu. He is regarded as a divine servant of Lord Vishnu. He is believed to protect his devotees from their problems. Similar to that of Lord Vinayaka, Vishvakshena is first worshipped by the Vaishnavites before starting any new work. It is believed that Lord Vishvakshena is protecting the entire world through his army.
WORSHIP :
At the following important temples, Lord Vishvaksena plays an important role in the temple festivals:-
1. Venkateswara Temple, Tirumala
2. Srirangam temple, Trichy
3. Varadharaja Perumal Temple, Kanchipuram
4. Sri Bhudevi Sametha Sri Venkateswara Swamy Temple in Krishna District, Andhra Pradesh.
CONCLUSION :
Lord Vishvaksena is none other than Lord Vishnu himself. By worshipping him, we will get all sorts of benefits in this world, and also can attain SALVATION after our death. Let us praise his glory and be blessed.
"OM SREE VISHVAKSENARE NAMAHA"
"OM NAMO NARAYANAYA NAMAHA"
SENT BY
R.HARISHANKAR