Devotional Articles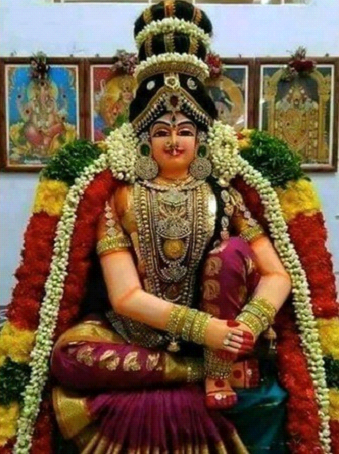 INTRODUCTION :Varamahalakshmi Vrata is a festival dedicated to Mata Lakshmi Devi. It is a famous puja performed mainly by married women in India. 'Vara Lakshmi Vrata' is celebrated in the months of July–August.Varalakshmi Vrata is performed by married women for the goodness of their husband. It is believed that by worshiping Mata Lakshmi on this most auspicious day would bring all kinds of prosperities to our family. Long ago, there lived a chaste and a pious woman called Charumathi in the present day Maharashtra. Due to her good nature, and by her sincere devotion, Mata Lakshmi appeared..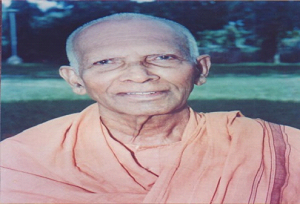 INTRODUCTIONRanganathananda (1908–2005), was a saint and served as the president of the Ramakrishna Mission. His birth name was Shankaran Kutty.Ranganathananda was born in the year 1908 in a village near Trichur, in Kerala to a pious Hindu family. He was impressed by the teachings of Swami Vivekananda and joined in the Ramakrishna Mission at Mysore centre. He has become a saint in the year 1933, and he served in the Rangoon and Karachi branches of Ramakrishna Mission.He performed discourses on the Bhagavad Gita and Bhagavatham, and his discourses were attracted even by big politicians, and pra..
Om Namo Narayanaya NamahaOh! Bhakt Prahalad. You are the protector of the whole earth. Lord Narasimha has given you all the powers similar to him, hence please protect us from our problems, and help us to move to the path of devotion, similar to you, and give us SALVATION. We are finding it very difficult to live in this kaliyuga without your help, hence give a seat near to you, and always make us happy, by chanting your name along with Lord Hari's name.Oh Bhakt Prahalad, you are always singing the glory of god, and you have occupied a permanent place in VAIKUNDA, the divine abode of Lord Nara..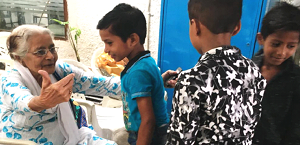 INTRODUCTION :Orphanages would consist of abandoned children, parentless children and children from very poor background. Generally, orphanages would be run by service oriented charitable and non-profit organizations whose motto will be to provide good service to the helpless children. Orphanage institutions mostly run with the donations received from the kind hearted people. Children would be provided with good food, and they will be given proper education also. Regular prayers and meditation would bring some sort of mental peace to the young children, and it will remove the stress from their..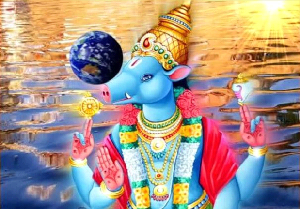 INTRODUCTIONPigs are worshipful animals according to Hinduism, since pigs contain the features of Lord Varaha, an avatar of Lord Vishnu. Once the demon, Hiranyaksha had thrown the earth into the ocean, and due to that, Lord Vishnu took the Varaha Avatar, and fought with the demon, and brought back the earth from the ocean, and placed the divine earth goddess, Bhudevi into the original position. Pigs are classified as black and white in colour. Black pigs looks very ugly, and used to eat dirty things, whereas, most of the white pigs are reared by the people in the villages, and used to kee..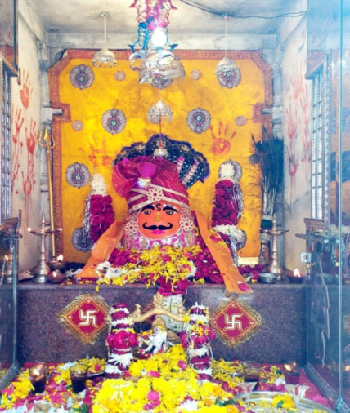 INTRODUCTIONKhetlaji is a village deity of Rajasthan. His main shrine is situated in the village Sonana in Rajasthan. The temple festival is held every year during May-June in honour of the great Khetlaji. Khetlaji is considered as the divine AMSHA of Lord Kala Bhairava, and he is the protector of the Rajasthani people. He is considered as an affectionate father god, and hence he is fondly called by his devotees as Pitaji. His other shrines are situated throughout Rajasthan. He is the Kula Deva of the Kataria community of people in Rajasthan. He is mainly worshiped during the marriage and birt..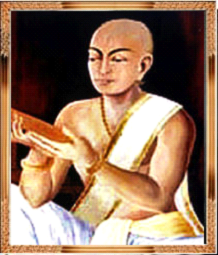 INTRODUCTION : Allasani Peddana (15th Century AD) was a popular Telugu poet and was one among the famous eight poets in the court of the famous Vijayanagar King Krishnadevaraya.Peddana was born in a town near Anantapur, Andhra Pradesh. He later moved to a village in Kadapa District, and stayed in a house which was presented to him by Krishnadevaraya.As an honor to Peddana, the great king Krishnadevaraya himself used to lift the palanquin in which Peddana was seated, and he was praised by the king, and got lot of wealth from him. Peddana was a Rama devotee, and wrote several nice poe..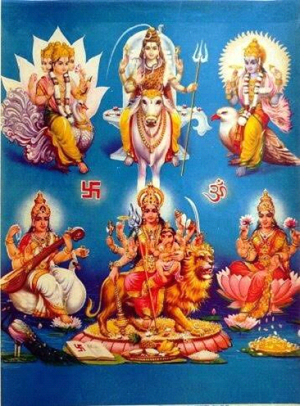 INTRODUCTION :Nayanmars are the shaivite saints who lived a few thousand years ago. They are the ardent devotees of Lord Shiva, and they found Shiva in their each and every body cell, and worshiped him with great bhakti. They crossed many hurdles in their life, and they are tested by Lord Shiva, in order to bring out their purity, and to show their great devotion to the entire universe. Each and every Nayanmar saints are tested in a different manner, and they passed in the divine tests successfully, and finally reached the abode of Lord Shiva, Mount Kailash. The divine texts Thevaram tells the..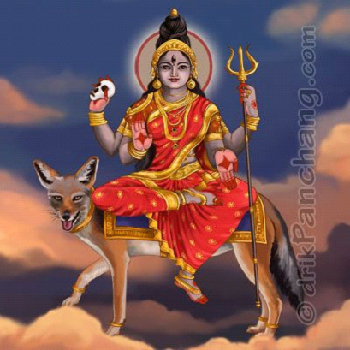 INTRODUCTION : Jackal is considered as the divine vehicle of Mata Chamunda, an incarnation of Mata Parvati Devi. In some pictures, Mata Kali also appears with her divine vehicle jackal. Jackals though are wild animals, but are considered as very clever animals, and they would mostly live in the forest and in burial grounds. As per Shiva Purana, while Lord Shiva roams in the burial grounds, along with his Bootha Ganas, lot of jackals would be present along with him, and they used to protect him. Jackals are also believed to be the divine vehicle of Lord Veerabadra, an avatar of Lord Shiva...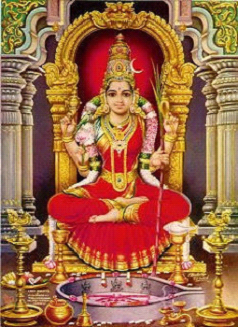 1. KAMAKSHI AMMAN TEMPLE, KANCHIPURAMThe Goddess Kamakshi prevails in the form of Shakti. The Goddess is called as "Sri Kamakshi. Kanchi is also called as Satyavrita Kshetra . The Goddess worshipped Lord Siva by creating a mud idol in Kanchi. Though there are many Shiva temples in the city, the only temple to have the sanctorum of the goddess is 'SRI KAMAKSHI AMMAN TEMPLE'. There are also eight other Shakti goddesses surrounding the temple.2. TRIPURA SUNDARI TEMPLE, TRIPURATripura Sundari Temple is situated in the ancient Udaipur, about 55 km from Agartala, it is believed to be one of the anci..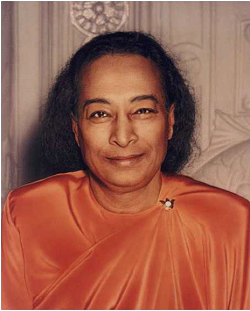 INTRODUCTION :Minott W. Lewis, a Boston dentist, and his wife Mildred were among Yogananda's first disciples in America. They were his lifelong disciples. Sister Yogmata, Boston. She was inspired by the teachings of Yogananda, and became a saint. In 1920 in Boston, she started meditation centre in the United States. Tara Mata was a direct disciple of Yogananda and worked tirelessly till her death in 1971. She is also called as the Divine Mother by her followers.Gyanamata attained sainthood under Yogananda in the year 1932. She served Yogananda and SRF, until her death in 1951.&..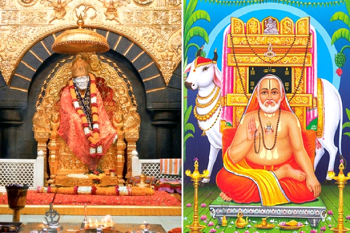 INTRODUCTION : Guru Raghavendra and Shirdi Sai Baba are considered as the two eyes for the Hindu devotees. Both are considered as the divine saviors who had took the avatars in this earth for reducing our sins, diseases and removing the fear from our mind. They are having the capability even to grant SALVATION to us, based on our true devotion on them. Similar to other deities, they cannot be ignored in the life of the Hindus, and they must be sincerely worshiped in order to gain all kinds of prosperities in their life.Guru Raghavendra is considered as a divine tree Kalpavruksha and the H..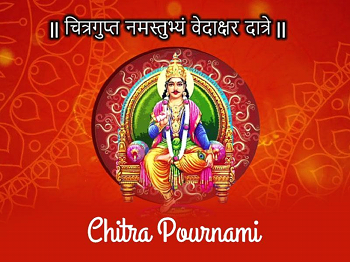 INTRODUCTION :Chitra Pournami is an Indian festival celebrated by Hindus throughout India. It is observed on the day of the full moon in the month of Chithirai which falls on April or May. The festival is dedicated to Lord Chitragupta, a divine accountant, who is recording the good and bad deeds done by the people and reporting their life accounts to his master Lord Yama, the death god. Chitragupta would forgive the sins of his sincere devotees, and puja is performed on Chitra Pournami by his devotees. On the Chitra Pournami festival day, many devotees would observe fasting and bath in th..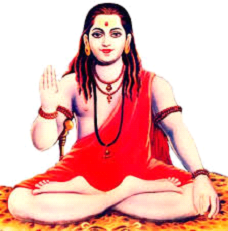 INTRODUCTION: Baba Shivo (14th century AD) who was also known as Goran Baba, is a village deity, worshiped in the villages of Kashmir and Himachal Pradesh. He is considered as a saint and contains the features of Lord Shiva. He was the son of the King, who ruled the Pattan Town at Kashmir. According to legend, Shivo was the disciple of Gorakhnath, and he obtained divine powers from him.King Ladh dev and his queen had left their kingdom, and went to the forest, and worshiped Gorakhnath, and through his blessings, Shivo was born to them. Shivo was a brave child who used to playfully p..