Devotional Articles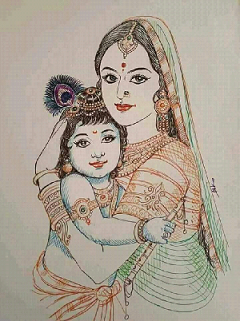 INTRODUCTION :Rohini lived in the previous Dwapara Yuga, and she is the wife of Vasudeva and her children are Balarama and Subhadra. She showed special attention on Lord Krishna, and had realized him that he was an avatar of god. Rohini is the daughter of king Bahlika, who was an incarnation of Bhakta Prahalada. Rohini is a chaste and a beautiful woman, and similar to her father Bahlika, she was very generous and used to donate valuables to the Yadhava people. For some time Rohini lived at the house of her relative Nandagopala in Gokulam. Rohini was very fortunate to have the Adisesha ava..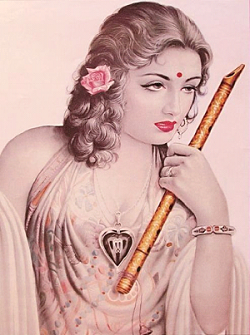 INTRODUCTION :Chitralekha was the goddess of magic, and she lived in the previous Dwapara Yuga. She was a friend of Usha, who was the daughter of Banasura, who ruled the present day India through his great powers.Once, Usha dreamt of meeting a lovely person, who is none other than Lord Krishna's grandson Aniruddha. She informed about her dream to her friend Chitralekha. Chitralekha drawn several pictures of young men, and finally Usha had identified her dream boy.Through her magic powers, Chitralekha brought Aniruddha from Dwaraka to the palace of Usha. Usha made Aniruddha to hide in a r..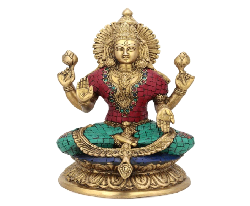 INTRODUCTION : Archi was a pious queen and she contains the features of Mata Lakshmi Devi. Archi was mentioned in the Bhagavata Purana and her consort was King Prithu, an AMSHA of Lord Vishnu. Her husband, King Prithu was an able king, and through his spiritual powers, rain was showered in all the seasons and the crops were grown properly. Prithu had performed many yagnas and pleased the divine devas and also used to regularly donate food and other necessary things to the people.Archi and Prithu considered their people as their own children, and provided them with all sorts of..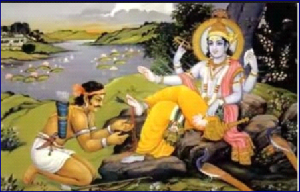 INTRODUCTION : As per Mahabharata, during the Kurukshetra war, all of the hundred sons of Gandhari were killed in the battle. Due to that, Gandhari had become very angry with Lord Krishna, and as a result, she cursed Krishna, that the entire Yadavas would be destroyed after 36 years. Similarly, after the completion of 36 years, severe clash occurred between the Yadavas, and they were killed by each other. On seeing this incident, Lord Balarama, had left his body through meditation, and went to Vaikunta. Lord Krishna also wanted to leave his body, and hence he rested under a tree in a..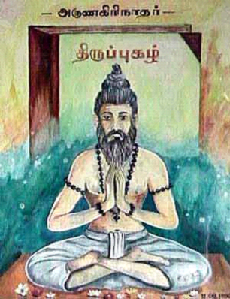 INTRODUCTION : Thiruppugazh is a rich treasure which contains beautiful poems penned by the famous Saint and Muruga Devotee, Sri Arunagirinathar during the 15th-century AD, and this text tastes like a sweet honey. This holy text is considered as one of the famous poems in the Tamil literature, and it was highly praised by the great kings, queens, and by the common public.Arunagirinathar during his young age, enjoyed lot of worldly pleasures and physical comforts, and in course of time, be began to realize his mistake, and decided to commit suicide by falling from the temple tower at Thiru..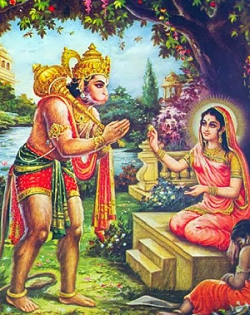 INTRODUCTION :Sundara Kandam is one of the chapters in the great epic Ramayana. It was written in Sanskrit by Maharishi Valmiki, who has written the entire epic Ramayana. In Sundara Kandam, the great tasks performed by Lord Hanuman were mentioned and also the various good qualities of Hanuman like his selflessness nature, obedience, confidence, great strength, and his Rama Bhakti is mentioned in the holy text. He is the one who makes impossible things into possible. Since Hanuman contains beautiful face as well as he contains very good nature, he was fondly called as "Sundara" by Sa..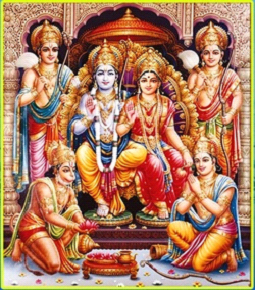 INTRODUCTION : Among the Hindu epics, Ramayana is considered as the most important epic, and the Ramayana incidents were happened during the Treta Yuga. Ramayana deals with the life history of Lord Rama, his wife Mata Sita, his brothers Lakshmana, Bharata and Shatrughna. By reading this holy text, all of our unnecessary worries, tensions, miseries and sorrows would be permanently run away from our life, and we would get happiness and peacefulness throughout our life. By reading the divine text Ramayana, we can get a great sense of satisfaction, similar to consuming the divine nectar,..
INTRODUCTION :Sri Puttur Narasimha Nayak is a popular Kannada singer from Karnataka. He has sung lot of devotional songs, mainly songs related to saints like Purandara dasa and Kanaka Dasa, and he is a sincere devotee of Guru Raghavendra. His songs attract large number of people across the world. His Music albums are very popular among the Madhwa community people.Nayak was born in a Brahmin family, and at his young age itself he learned music from a good scholar. He has also sung some songs for Kannada films. He won the Karnataka Awards for his talent in music.&nb..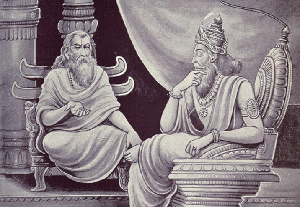 INTRODUCTION :Vidura is one of the main characters in Mahabharata. He is the prime minister of the Hastinapura Kingdom and the brother of the blind King Dhritarashtra. He is considered to an incarnation of Lord Yama Bhagavan, the death god, and lived his life in a righteousness manner.Vidura was the son of Sage Vyasa and Parishrami, a pious maid. He was highly respected by the Pandavas and Lord Krishna for his good manners. He also safeguarded the Pandavas from the attacks of Kauravas, and acted as a godfather to them.Vidura neethi was written by Vidura, and it is considered as the best ..
INTRODUCTIONSaint Karmamela (14th century) was a great saint from Maharashtra. He was the son of Chokhamela and Soyarabai and belonged to Mahar caste, and they were considered as untouchables and treated badly by the upper class people during those days. He was against caste discrimination. He deeply expresses in his songs, about his birth in lower class family, and the sufferings which he faces in his daily life. Karmamela was deeply attached with Lord Vital and concentrated his attention only on him. His songs are so divine, and it was praised even by the upper class people.He will used to s..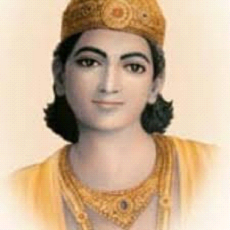 INTRODUCTION :Bhanu was the son of Lord Shri Krishna and Mata Satyabhama, and he closely resembles Lord Krishna in appearance. He was married with Suthanu, who was the daughter of Yudhishthira and Draupadi, and their son was Vajra. Banu moved closely with the Pandavas, and won their heart. He was the friend of Samba and Prathyumna, who were also the sons of Lord Krishna. Bhanu learned his education under his father Lord Krishna, and also he was trained very well in archery by Arjuna. He was very much liked by his uncle Balarama, and he was well trained by him in handling of the weapon "MA..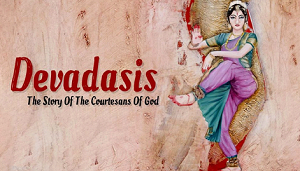 INTRODUCTION :Devadasis are the great dance performers who used to live in the temples, by following lifelong celibacy, with dedication and devotion on the almighty. They are considered as the divine mothers, who used to sincerely worship the deities, and would pray for the wellness of the people. They are selfless women, who are considered as the special creations of the god. They also would heal the diseases, black magic problems and mental illness of the people by praying to the god.But some people are considering the noble devadasis in a different m..
INTRODUCTION :Mother Krishnabai (1903-1989) was a saint and contains good nature, and showed kindness and motherly affection on the people. She has changed even the bad minded people into good, through her kind attitude, and by showering her motherly affection on them. She lived like a wish-fulfilling tree and provided comfort and gave shelter for the spiritual seekers. Her good qualities are forgiving others and not finding fault with others, and she was considered as a chaste woman, who lived a saintly life, after the death of her husband. She asked her followers and the people to chant..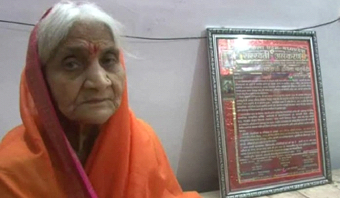 INTRODUCTION :Urmila Chathurvedi is a senior citizen who crossed 80 years, and from the year 1992 on wards, Mataji Urmila, stopped eating food grains and used to eat only fruits and milk items, in order make her dream into reality, since she wanted the Ram Temple to be constructed at Ayodhya. Mataji lives in Jabalpur, Madhya Pradesh, and she is an ardent devotee of Lord Rama, from her childhood itself. Her mother used to tell the incidents from Ramayana, and the young child used to observe it keenly.Mataji had visited several temples of Lord Rama, but she is very much worried for not having a ..